The media conveniently ignored the political underpinnings of the Black Lives Matter movement, which were front-and-center for the world to see on its social media pages. For months, Accuracy in Academia highlighted Black Lives Matter's political agenda and ideology, while BLM was hell-bent on getting Democratic Party presidential candidate Joe Biden elected and unseating incumbent Republican President Donald Trump.
Typically, the social media posts of organizations, politicians, music artists, celebrities, and the like demonstrate their public-facing rhetoric, thoughts, or opinions. But when it comes to Black Lives Matter, the media ignored or pretended they did not exist.
The group's social media feeds and pages demonstrate its strong left-wing, radical Marxist bent, despite the ongoing media narrative that the group advocates for peaceful protests.
On Election Day, when the election results were unclear due to the number of mailed ballots, Black Lives Matter demanded on Facebook that "President Trump must concede." It added, "And that means dropping his bogus lawsuits to challenge the results. America is a democracy, not a dictatorship, and we will protect, preserve, and defend our vote." The group congratulated Joe Biden on the victory, though it was too close to call, and his running mate Kamala Harris for "becoming the country's first woman – a Black woman – to serve as Vice President."
The group also made an unsubstantiated and debunked claim about Trump's alleged racism, "We showed up in huge numbers to turn this country around and remove the racist in the White House."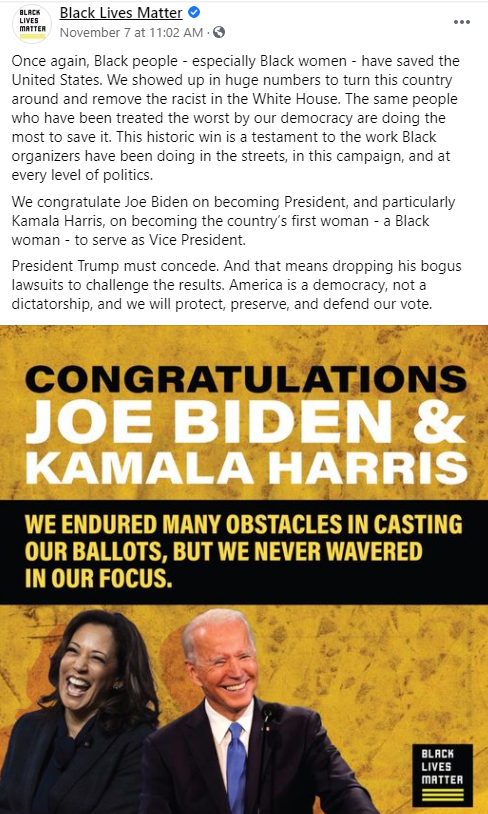 On Small Business Saturday, which is the Saturday following Thanksgiving and Black Friday, Black Lives Matter's Facebook page challenged its audience to "think and engage collectively and determine how an economic agenda plays into a Black liberation agenda." To avoid criticism, the group specifically said that this was "not a call to replace White capitalism with Black capitalism."
Black Lives Matter failed to recognize that under Trump's presidency, black and minority workers saw historically low unemployment rates and other economic success.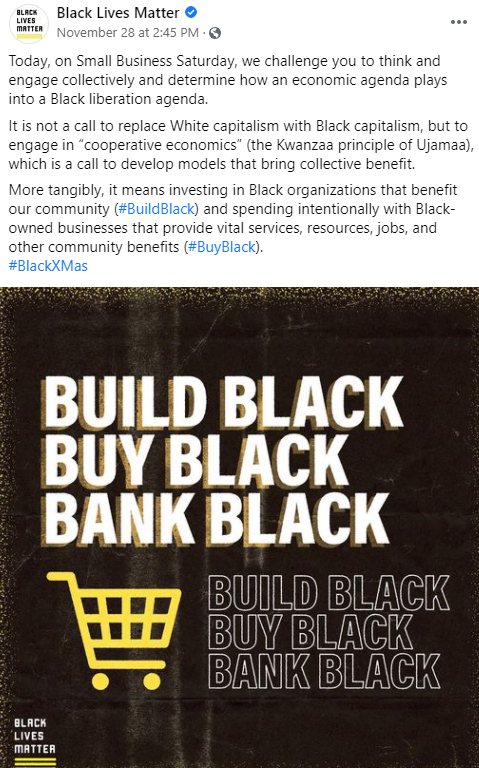 Two days after Election Day, Black Lives Matter posted a letter to the Biden-Harris administration on Facebook and congratulated itself for voting "out white supremacy," without giving specific and tangible examples. It was yet-another reference to Trump's alleged racism, which has yet to be proven by critics.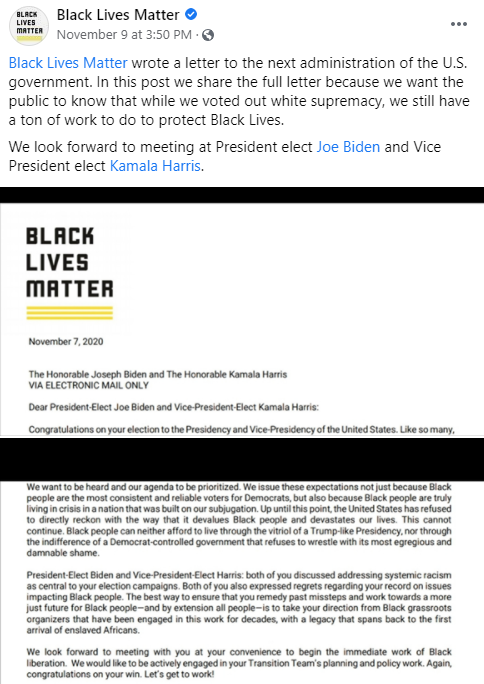 In a nod to our work detailing the secret donor network behind Black Lives Matter, the group's Facebook page posted a message on July 8, 2020 that told its audience to "get REAL information" from its "trusted sources" at its own website and its social media page. Ironically, Black Lives Matter did not acknowledge the truth behind AIA's findings while claiming innocence.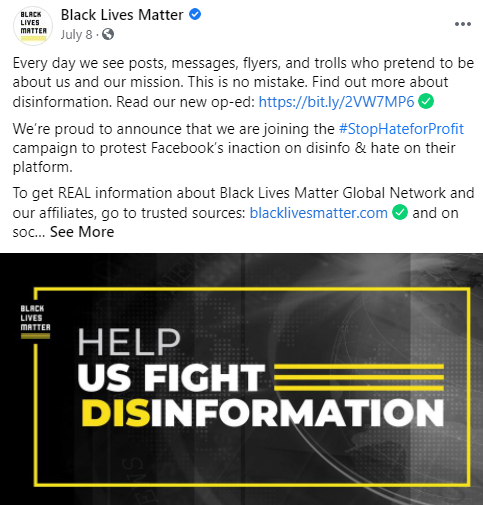 On June 12, 2020, Black Lives Matter's Facebook page cited left-wing Media Matters' defense of the group and claimed, "Debunked conspiracy theories won't stop us…we've got freedom and justice to win #BlackLivesMatter."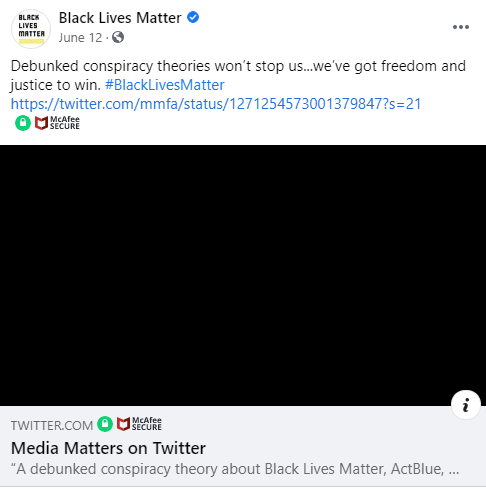 The group also posted information to defend its controversial stance to defund police departments. In one post, Black Lives Matter posted a graphic to outline its #DefundPolice plan that demanded reparations to victims of police violence and their families and advocated for less spending "on law enforcement and incarceration. Period." Their plan also included the general phrasing to "demand investment" in black communities, without detailing targeted areas for investment.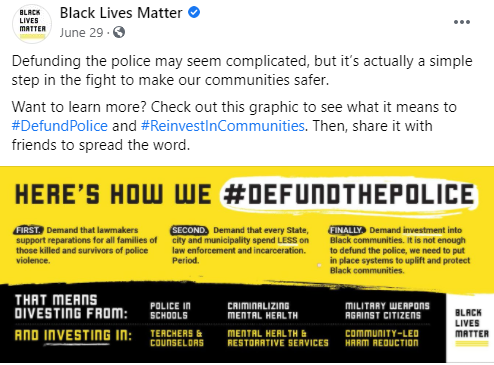 Black Lives Matter's Twitter page echoed similarly partisan social media posts, such as its activist campaigns and advertising spots.
The Left uses general phrases, rallying cries and slogans, and vague references when it comes to their policy proposals to avoid scrutiny, exposure, or criticism. Black Lives Matter is following the same Leftist playbook, with the media giving them cover or feigning ignorance.