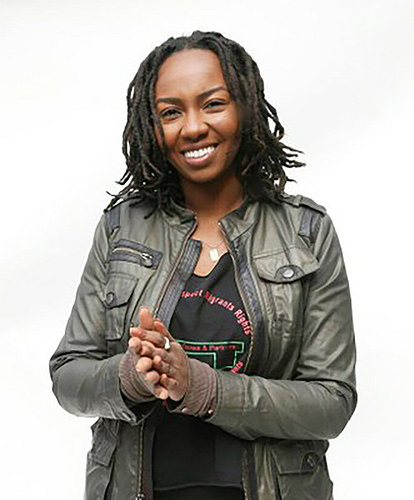 Last week, Black Lives Matter co-founder Opal Tometi declared to the United Nations, " … I would argue that the international community faces 3 core challenges to advancing human rights. Those are: global capitalism; [sic] white supremacy and the suppression of democracy." Opal Tometi started the Black Lives Matter movement in 2013 with Alicia Garza and Patrisse Cullors.
Tometi, a community organizer, works as the Executive Director of the Black Alliance for Just Immigration (BAJI). The BAJI website states, "BAJI educates and engages African American and black immigrant communities to organize and advocate for racial, social and economic justice." James Simpson's report for Accuracy in Media reveals that BAJI receives funding from left-wing donors including Soros Funds.
She also helped found "Safety Beyond Policing" an organization that attempted to prevent NYPD from adding officers to its ranks. A statement on Safetybeyondpolicing.com urges, "Let's remain committed and inspired to tell the world how our own communities define safety, which has nothing to do with policing, but rather with a stronger safety net and community investment after a history of disinvestment that has produced decades of racial disparities."
Describing this effort, Tometi explained, " … we have to define safety for ourselves. And safety looks like having access to a good job. Safety looks like having mental health services or services for homeless people. Safety looks like not being harassed if you jump the turnstile because you can't afford to pay for your train ticket."
Earlier in the same interview Tometi said, "So there's a legacy of structural racism that's been impacting black communities in the United States ever since we were kidnapped from Africa and brought to the United States. And so what we're seeing today is actually a continuation of the racist policies and practices of the United States. We're seeing state sanctioned violence with impunity on black people. The reality is that the laws in the US and the kinds of policing that we're seeing in the United States really emerged in the time of Jim Crow."
In a VICE story about Black Lives Matter she discussed other "structural injustices" that she believes the movement has highlighted. "Folks are pointing to the fact that there is high unemployment, there is rampant discrimination in their communities, there's sub-standard educational systems that are operating in their neighborhoods and folks are really pointing to this as being the real injustice that's plaguing their communities."
According to her website, Tometi adheres to liberation theology: "Opal believes that one's spiritual practice and aspirations for dignity and self actualization is what a rich faith life is about and that it must be further sharpened by engaging in deliberate action for social justice and human rights."
Alex Nitzberg is an intern at the American Journalism Center at Accuracy in Media and Accuracy in Academia. Follow him on Facebook, Twitter and Instagram.
Photo by pennstatenews
Photo by pennstatenews